June is probably one of my favorite months out of the year. School is done (I mean that kinda applies to this year too right?), summer begins, and it's the month of our wedding anniversary. When I started my June 2020 bullet journal spreads, I didn't know we would be taking a beach vacation for our anniversary, but the theme came true! I hope you enjoy my June 2020 bullet journal flip through as much as I enjoyed making it!
This blog post contains affiliate links to products. As an Amazon Associate I earn from qualifying purchases. All of the products I share have either been items I have purchased myself and love, or items that come highly recommended and I would purchase in the future.
---
Taking a Closer Look June 2020 Flip Through
Cover Page
First, lets look at my June 2020 cover page. I keep saying this but I had a goal to be more creative and less minimalist and every month I get better and better. I adore this washi tape from Oops a Daisy UK and used her May stencil for the rest of the decorations. I did a simple list of the days in June on the right hand side. I love how this turned out!
June Master "To Do" List
Next up is my master to do list for June. I got this lovely coloring page from Snail Scribbles on Oops a Daisy UK's website. I love it, I just didn't do too well with my completion.
Month in Review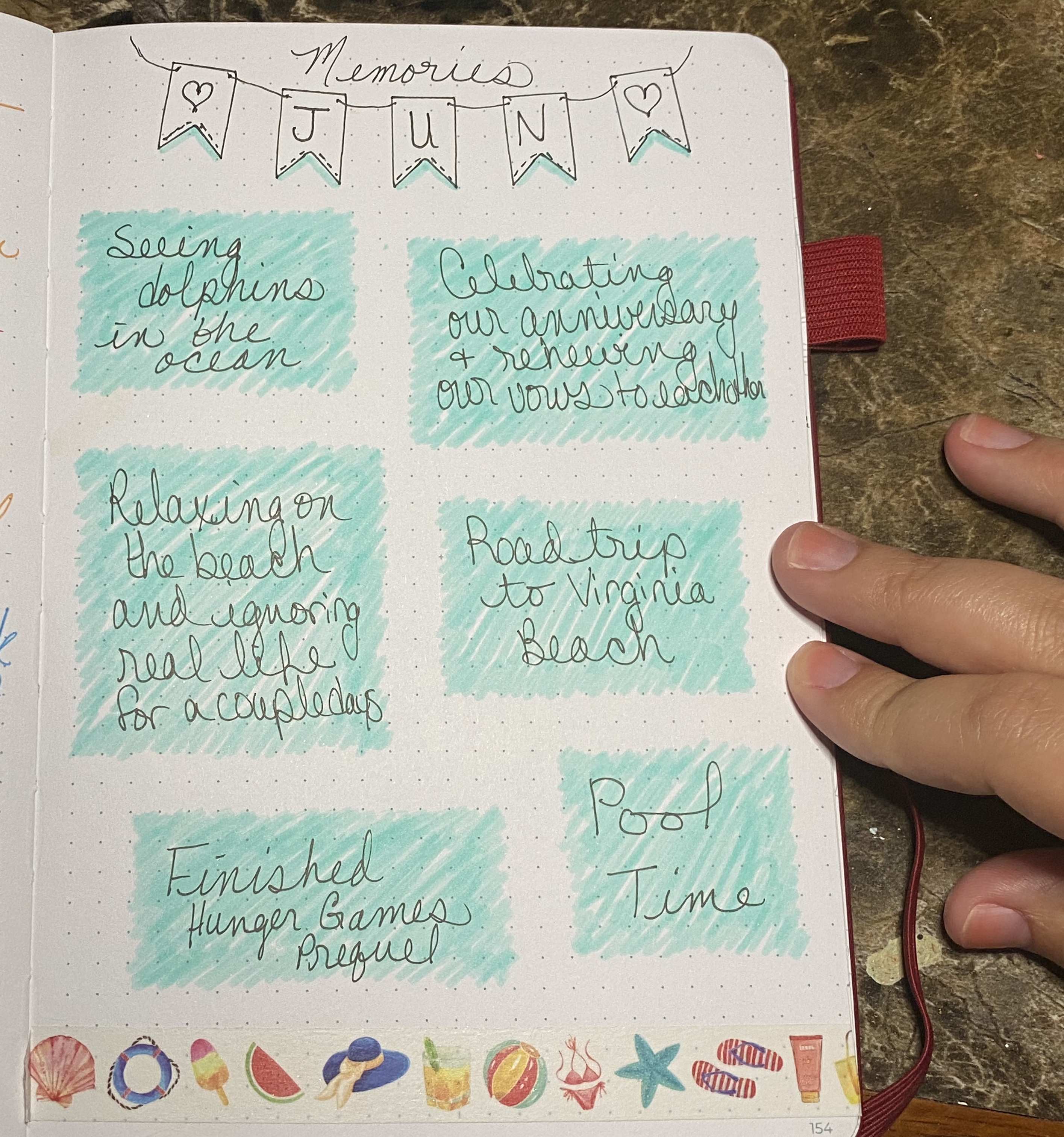 Finally, my June in Review page. I always love to include this little review page at the end of my monthly spreads. It works as a memory keeper for me. So many things happen over the course of a month that it is nice to look at it and be mindful of the good things that have happened. I used a Zebra Mildliner here to make some free form boxes to write the memories in.
Supplies Used
Scribbles That Matter A5 Planner – https://amzn.to/2ZWY95B
Staedtler Pigment Liner – https://amzn.to/2ZZNp6M
Zebra Mildliners- https://amzn.to/2YU0n5x
Scribble Stuff Pen- https://amzn.to/2yzu6Wk
Ohuhu Art Markers – https://amzn.to/2MnkjpP
Social Media Icons Stencil – https://oopsadaisyuk.com/product/a5-p…
Washi Tape and Summer Stencil – https://oopsadaisyuk.com/shop/
Kingart Gel Pens – https://amzn.to/3fqHR9W
Thank you again for joining me for my June 2020 Bullet Journal Flip Through. I hope this gave you some inspiration for you summer bullet journals!
Check out my Plan with Me post to see how I set up June 2020!
I'd also love to hear your feedback! Leave a comment below