The other day I guested on my husband's entertainment podcast, From a Certain Point of View, and it came to the part in the podcast where we could shine a light on our own blogs or podcasts and I basically froze. How do I tell a community of entertainment people about Bullet Journaling? Even though it's something I live and breathe, it felt so foreign and awkward to explain it. That experience gave me the idea for this post, How to Start Bullet Journaling Today.
I didn't know about bullet journaling until around October of 2016. I am a habitual list maker. Just last weekend I first made a list of what we needed to get done over the weekend, then a list of meals for the week ahead, then a grocery pickup order and then a list of all the things I needed to go into the store and personally purchase all within an hours time. Bullet Journaling was a dream come true for me. What could be better than a book of lists, and then lists of lists of lists?
The beauty of bullet journaling is that you make it what you want. It can be as simple as a running list of items that need to get done to something more of an art journey though a custom planner. The possibilities are endless. So if you're a curious person who has either never heard of bullet journaling, or someone who is totally interested but have no idea where to start, you're in the right place.
How To Start Bullet Journaling Today
Supplies
This is always a place where a lot of people get hung up. Questions come up about what journal or notebook you should use, what pens to use, do I need washi tape, do I need stencils. The truth is all you need is a notebook and any type of writing instrument to start bullet journaling today.
It's that simple. You don't need a $100 custom made journal or every color of Tombow dual tip brush pen just to get started. I literally started with a composition notebook and a Bic pen.
The Journal
Now that's not to say you can't expand once you decide if bullet journaling is for you. I have gone through probably eight journals at this point, and I have honestly never used the same journal twice. I like to try out different ones every time I need a new one. There are so many different types of journals now.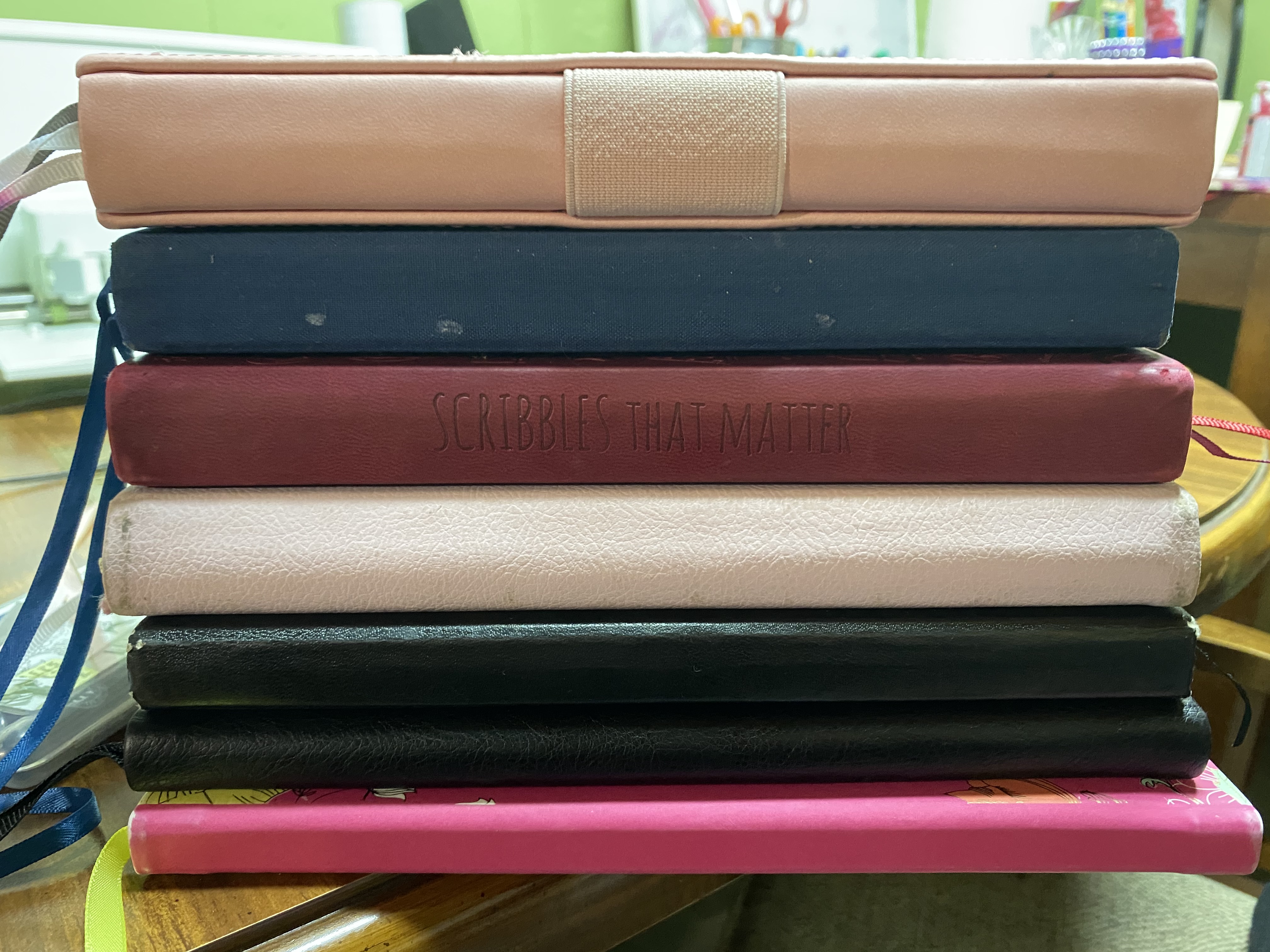 After my basic composition book, I used a couple of square grid journals. I have now settled on the A5 dot grid journal, but I haven't picked a specific brand I love yet. As I've gone through my journaling journey, I've come to find I love a thicker page. My current journal has a page thickness of 160 GSM and I don't know that I'd go any thinner. It really helps prevent ghosting.
Here are a list of journals from Amazon you may want to check out. These are all journals I've used in the past. Each one has their pros and cons but are all at pretty good price points depending on what you're looking for.
< >
Pens
The pen journey has been a long one as well. Like I said before, I started off with a Bic pen. Then I moved on to a Sharpie Pen which I really liked. Now, I've been using Staedtler pigment liners and I absolutely love them. I love that they come in different thicknesses. I'll use a thicker pen for outlining boxes but for normal writing I like to use a thinner pen, like a 0.3 mm.
I also have accumulated a lot of colored pens as well over the past 4.5 years. I started off with basic highlighters and now have a set of Zebra Mildliners. I also started with a really cheap set of colored pens from Amazon, and now I have a set of Scribbles that Matter brush pens and fine point pens. Also don't forget the gel pens!
Here are a list of pens from Amazon you may want to check out. These are all pieces I've used in the past and have enjoyed.
Where do I start?
This is the scary part, putting pen to paper. I think this is a common place that people quit before they've even started, afraid of making a mistake. While I do understand where you're coming from, being a self proclaimed perfectionist myself, that is part of the journey with bullet journaling. DON'T BE AFRAID TO MAKE A MISTAKE. I have made my fair share and the best part is this journal is for you! Not for anyone else, so if you make a mistake you can either fix it or just move on with life.
Honestly, just dive in. A good place to start is with a key. Some journals will come with a key like the one below from Scribbles That Matter. As you can see, I made a mistake on this key (FIRST PAGE!). Thank goodness for white out. Honestly a life saver. The most important thing to decide is what you want your symbols to mean. You can use the common ones I did, or you can use your own, the options are endless.
Common Bullet Journal Starting Pages
Key
Index
Title Page
Word of the Year
Grid Guide
Future Log
Yearly Goals
Yearly Books Read Log
Yearly Movies Watched Log
Books you want to read
Movies you want to watch
Debt Tracker
Event Countdown
And these are just ideas for the set up pages before you get into your monthly, weekly and daily tasks.
Keeping it Simple
One of the best ways to start bullet journaling today is to keep it simple. Honestly, you don't even need any of the pages I listed above to start journaling. Grab your notebook/journal and just begin. Put your date at the top of the page and start making a list. If you get it done today, great, check that puppy off. If you don't get it done today, no worries! Just migrate that task to the next day and keep on trucking.
In Conclusion…
Well now you know how you can easily start bullet journaling today! All you need is a pen and a notebook and you can dive right in to a whole other world of planning. It is truly one of the most effective and therapeutic practices I have adopted in my life and I'm sure you will love it too! Let me know your thoughts in the comments! Happy Bullet Journaling!