Hello February! I was really looking forward to setting up my February 2021 Bullet Journal because I knew I wanted to do something Mardi Gras themed this year. Even though I'm not from New Orleans or French, I still like to celebrate Mardi Gras. I just love the whimsy of the whole thing. Typically I'll get the big bag of beads from the basement and Sydney and I (and sometimes Josh) will put them on and eat some muffuletta with remoulade sauce. Check out my post about it from last year HERE! It's a fun night, way more low key than the actual Mardi Gras.
February 2021 Bullet Journal Spreads
Cover Page
There's nothing more Mardi Gras than a carnival mask. I created a new stencil with a Mardi Gras theme that you can find in the shop. I used my Fancy Letter Stencil to create the title on this page. I also stuck to the Mardi Gras colors which each stand for something! Purple stands for justice, green for faith and gold for power. Finally, I made a small strand of beads at the bottom using the Mardi Grad stencil as well.
February Calendar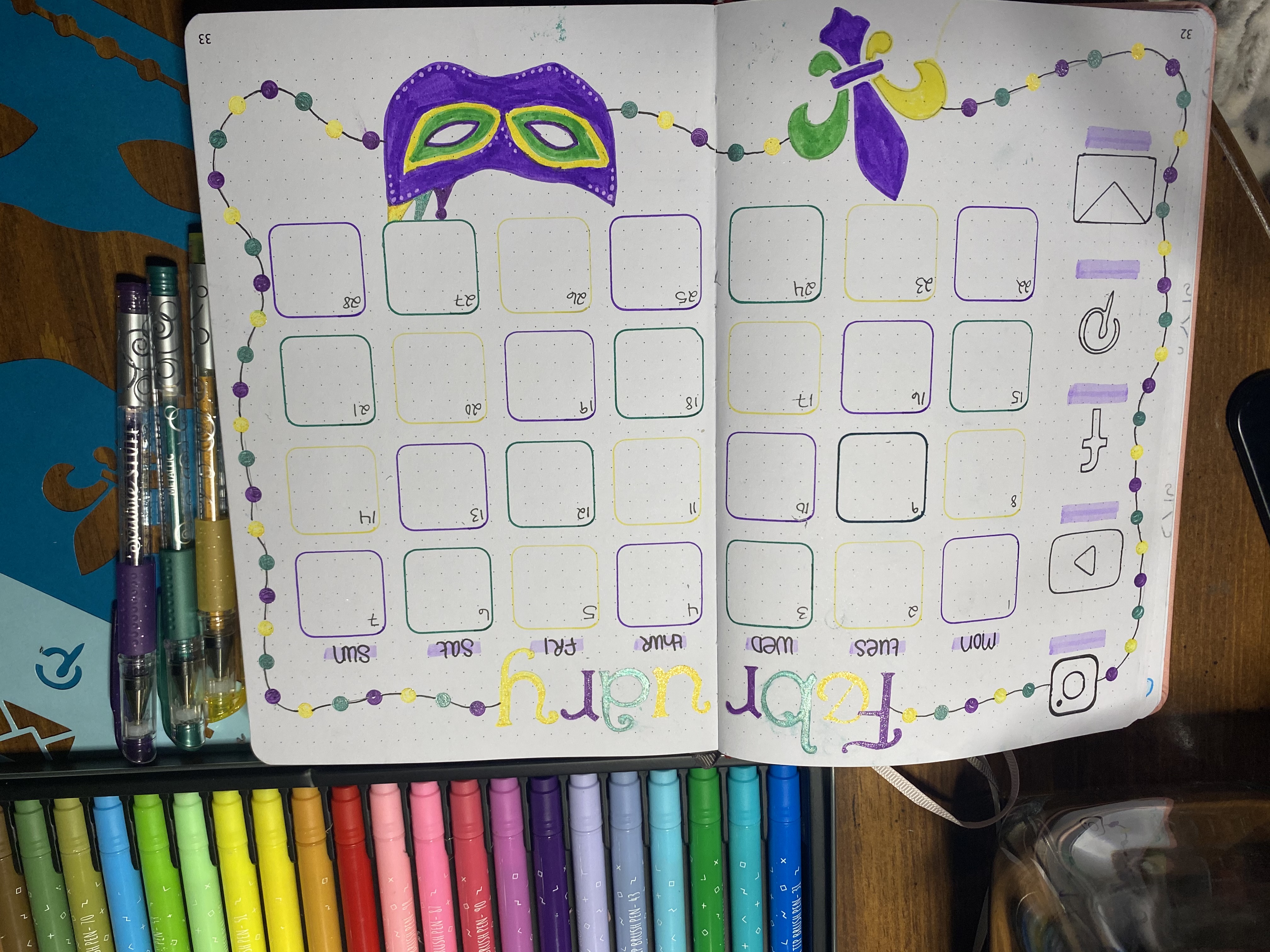 This was a fun spread to create. I used my Socially Boxed mini stencil for the daily boxes. I again used the three colors associated with Mardi Gras. I also added a fleur de lis at the bottom which is another common symbol associated with Mardi Gras using my Mardi Gras stencil. I added in my social media tracker using the Socially Boxed stencil and then wove a strand of beads around the entire spread. I absolutely love how this came out.
Master "To Do" List
I thought it would be fun to go back to my coloring page for my master to do list. I'm still working on a stencil for the check boxes so I had to do those by hand again. I'm looking forward to some coloring time with this one. It's so soothing.
Thank you for joining me for my February 2021 Bullet Journal Set Up. I'd love to hear your feed back– leave a comment below.
If you'd like to check out more Plan with Me's click HERE!