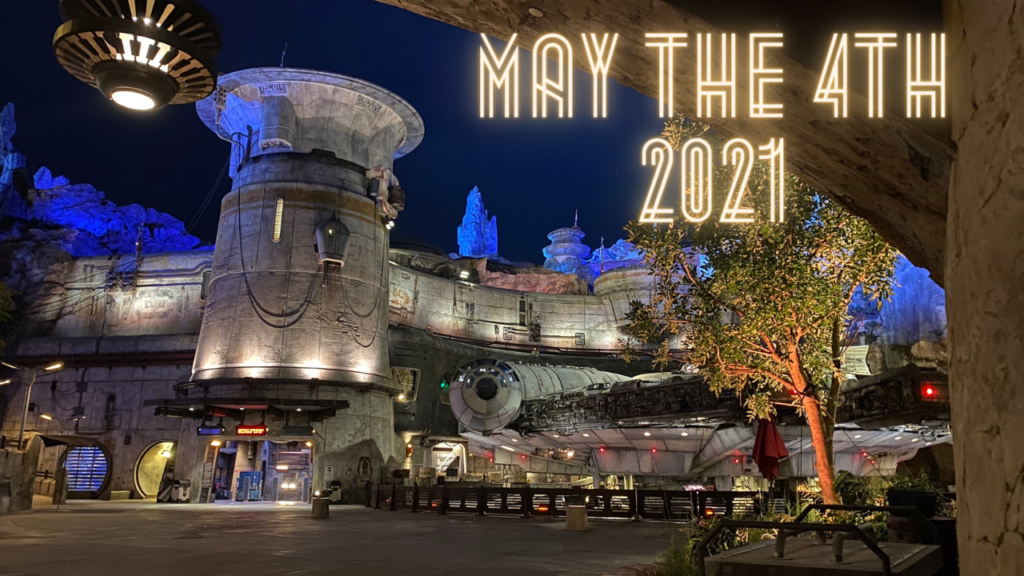 Obviously, if you're not a Star Wars fan you have no idea what I'm talking about right now, but Happy May the 4th 2021! Let me explain. Sometimes on earth, we will say, "break a leg" or "good luck" but in the Star Wars universe, they say "may the force be with you". May the Fourth is a play on words in association with that send-off. I mean #NERDALERT but if you're here, then I'm assuming there's some nerd within you. We are a judgment-free zone here so you are more than welcome!
This day is another one of those random things we celebrate in our house, just like Mardi Gras and Cinco de Mayo. It just gives us a little additional fun in between holidays. It even makes the annual photo album as a holiday (again, judgment-free zone here). So today, I thought I would do three things. First, write a blog post because I have severely been slacking lately, second, share some ways we celebrate May the 4th, and third, share my 5 favorite things about Star Wars. I can't believe the last one came out of my mouth but yes, I have favorite Star Wars things.
So, with number one in progress as we speak, lets move on to number two:
Celebrating May the 4th
This has evolved slightly over the past few years and will continue to evolve as Sydney grows up I think. My husband has been a HUGE Star Wars fan since he was a kid. He's even started a podcast with one of his best buds that originally focused on Star Wars and has since branched out to discuss additional entertainment offerings (check them out at From a Certain Point of View). I mean I was doomed to get sucked into the fandom. Sydney was doomed as well. We had decided to decorate her nursery in Star Wars and Harry Potter theming right from the start. She ended up accumulating a lot of Star Wars outfits as well and even had her monthly pictures taken beside a stuffed Yoda. She doesn't stand a chance.
Our tradition started off with me taking a picture of her in her Star Wars onesie and including it in the annual photo album in the holiday section. Check out the slideshow below for 3 out of the last 4 May the 4ths. Apparently, I didn't take one in 2019.
Last year we were fortunate enough to find blue milk to enjoy on May the 4th from Turner's Dairy. Unfortunately, it doesn't appear that they made it this year so our hopes of continuing this tradition were crushed. The good news is I didn't really like the taste that much so I'm not too depressed and I got a great picture last year for prosperity. We did try the blue milk at Oga's Cantina in Galaxy's Edge but again, I was not a fan. I guess I'm expecting it to taste more like milk and less like fruit?
My Star Wars Top 5
My husband is going to get a kick out of this. So, I've sat here for a while now (like 5 minutes) and have compiled a list of my top 5 favorite Star Wars things in honor of May the Fourth 2021. I feel like these can change at any moment since there is ALWAYS new Star Wars content being released now. It's super exciting for the hubs and I mean, I don't mind too much. At least I will mostly have something new to watch every so often since new Harry Potter content is like non-existent anymore.
5. Ewoks – These things are literally super cute. It amazes me how George Lucas was able to get these puppets or costumes or whatever he used (I know my husband will enlighten me later) to emote such emotion. Like they are hilarious and touching and just oh so cute.
4. Star Wars is not afraid of a strong, female character. I feel like this was somewhat of a theme with George Lucas, even in the '70's when Star Wards originally came out. Leia was no pushover. She kicked ass and took names. I mean yeah, she was a princess but she was not afraid to get dirty and do what needed to be done. The newer content features several strong female characters as well. Rey, Maz Kanata, Ashoka Tano, Sabine Ren, Hera Syndulla, Cara Dune, and Vi Moradi just to name a few. The Star Wars universe is filled with role models for all our little ladies.
3. BB-8 — yes, I like him more than R2 and I'm sure a lot of the die-hards will have a huge issue with this. I do love R2 too, but I feel like BB-8 has more emotions and makes me want to cuddle him even though he is a robot.
2. Grogu (baby Yoda for you non-nerds) — This goes right back to the cuteness factor. The noises and emotions that this little animatronic or hand puppet or whatever he was emoted just stole my heart. I was so invested in this thing from the second the first episode of the Mandolorian introduced him.
1. Galaxy's Edge (an entire post about this place is coming soon!)– I really think this has everything to do with Disney Imagineering and nothing to do with Star Wars. I was literally blown away when we walked into Galaxy's Edge at Hollywood Studios. Yes, there were things I had issues with (um… land transitions Disney!!! Come on now!), but otherwise, I was so overly impressed. Even if you're not a Star Wars nerd you will enjoy it! It's literally gorgeous, especially at night.
I hope you have a wonderful May the 4th 2021 and maybe next year you can celebrate too! If you liked this post please be sure to let us know in the comments and if you're a Star Wars fan, let us know some of your favorite things! Until next time, May the 4th be with you!