I am super excited about my August 2020 Bullet Journal. Anyone who knows me, knows that I love peacocks. I have a lot of peacock decorations around my house and our wedding was peacock themed! When I was planning my August theme, I just knew I had to do peacocks since August is also my birthday month! I hope you enjoy these bullet journal spreads as much as I do!
This blog post contains affiliate links to products. As an Amazon Associate I earn from qualifying purchases. All of the products I share have either been items I have purchased myself and love, or items that come highly recommended and I would purchase in the future.
August 2020 Bullet Journal Pages
August Cover Page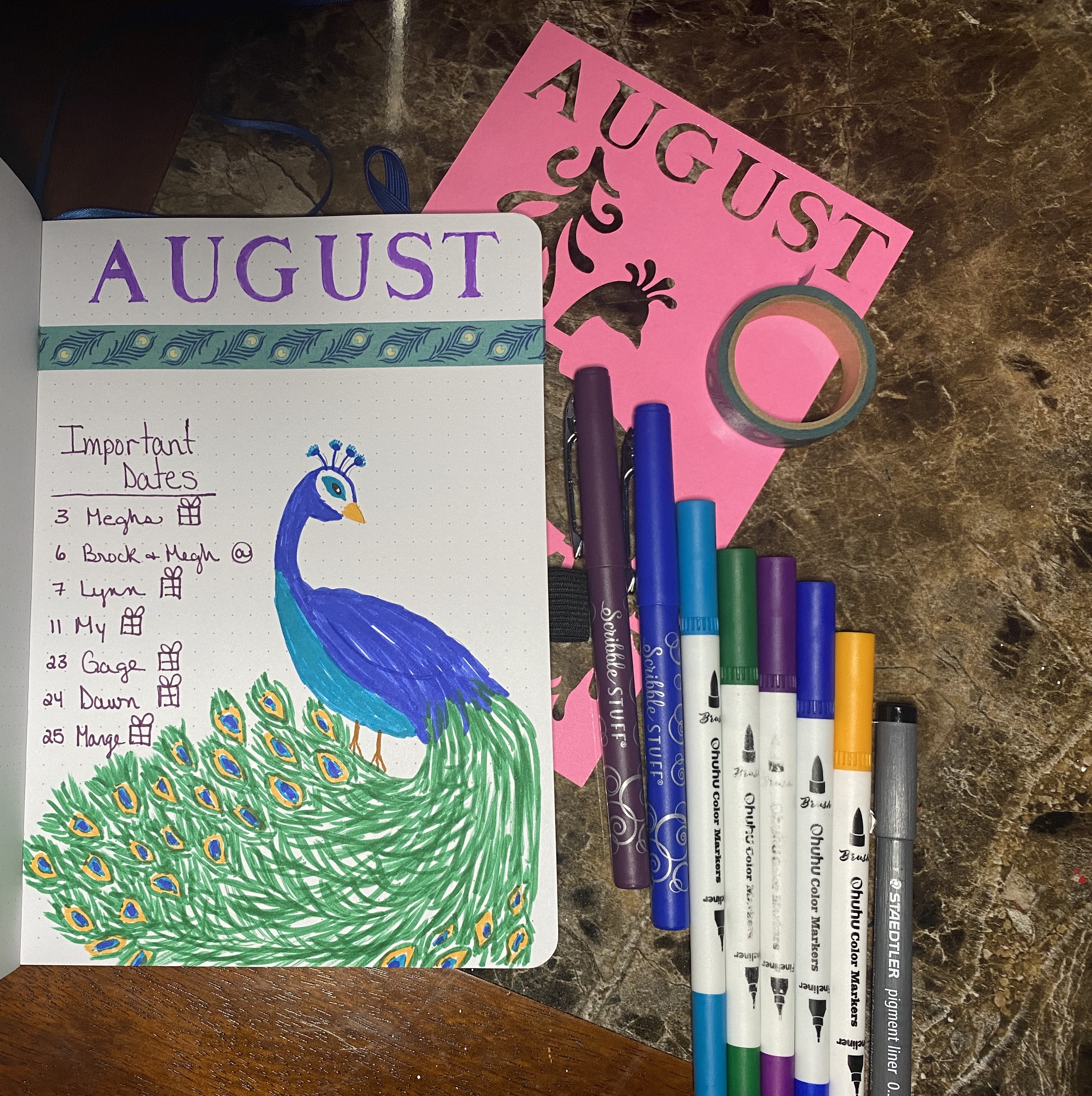 I am IN LOVE with how this turned out. I started out with my stencil for the body of the peacock. I didn't care for the tail on the stencil so I free-handed the tail. I am so proud how this turned out!
August Calendar Page
Next up is my August calendar page. I'm happy how this came out as well. Again, I used the stencil I created to make the eye of the feather and then I free handed the rest. I love how the feathers go behind the boxes in the calendar. I also made a stencil for the boxes but with August falling the way it did, I ran out of room at the bottom. It doesn't look too bad but not perfect.
August Master To Do List
Finally we have my master to do list. This month I decided to do something a little different. Instead of doing a coloring page like i normally do, I decided to trace a peacock and as I complete a task i'm going to draw a feather onto the peacock. I'm super excited how this came out and can't wait to see it once its completed.
Items Used
Archer and Olive A5 Journal (get 15% OFF!) – http://archerandolive.refr.cc/brittanyrausch
Staedtler Pigment Liner – https://amzn.to/2ZZNp6M
Zebra Mildliners- https://amzn.to/2YU0n5x
Scribble Stuff Pens- https://amzn.to/2yzu6Wk
Ohuhu Art Markers – https://amzn.to/2MnkjpP
Stencils – www.oopsadaisyuk.com
Washi Tape – michaels.com
Thank you for joining me for my August 2020 Bullet Journal Set Up. I'd love to hear your feed back– leave a comment below.
If you'd like to check out more Plan with Me's click HERE!