I cannot even begin to describe how excited I am to share our Disney trip with you all. This trip has been almost two years in the making and has morphed so much during those two years. After all the ups and downs I am home and excited to say that visiting Disney during a pandemic was awesome!
In the next couple of weeks I am going to bombard you with several Disney posts. You're going to experience each of the parks through our blog posts and by the end, I hope you're as excited to plan your next trip as I am.
During our week long trip, we were fortunate enough to visit all four Disney parks, Magic Kingdom, Animal Kingdom, Epcot and Hollywood Studios. I hope to share with you ALL of the good along with some of the bad, because not every trip is perfect, but always keep in mind, a "bad" day at Disney is still better than a good day not at Disney.
Is over-planning a thing?
So I have to say, I am a serious planner. I mean, if you've been following my blog, you've probably seen my obsession with bullet journaling, or if you're new here, take a look around and you'll see what I'm talking about. I literally have a book full of lists, even some lists of lists. It's kinda embarraassing, but it's how I function.
As some of you might know, and for those who don't, planning a Disney trip is no small feat. I literally have spent countless hours over the past two years planning this trip from browsing condo's to rent to deciding which days would be best to go to which park to actually making the now required reservations for each entry to the park. Then add in Covid-19 and Disney's response and you've got yourself a planners nightmare.
Accommodations
I have always wanted to stay on property at the Disney Resort but it just never seems to be in the budget. We also normally travel with a group of people so renting a condo off-site has been the best option for us the past couple of times we've gone to Disney. What's nice about the condo, especially now with the pandemic, is that I always get one that has it's own pool. It is so nice to get up in the morning, grab a cup of coffee or a bowl of cereal, and sit out on the lanai by the pool.
This year I went a little "extra" with our condo and it was totally worth it. We opted for a condo that was all one floor making it easier for my grandmother and my 3 year old to get around. You can check out the condo, Sunset Retreat, HERE. Obviously we loved the lanai and the pool, but the other nice thing was that the bedrooms were split up in a way that worked perfectly for us. On the right side of the house there are two bedrooms that share a bathroom. Josh, Sydney, my grandma, and I shared this side of the house. On the other side of the house were the other three bedrooms. Two shared a bathroom and the third had it's own, connected bathroom which led out to the pool. My two aunts and my cousin shared this side of the house.
It was nice for us all to have our privacy, but also have the center of the house as communal space, where we could enjoy each other's time. Even in that shared space there was plenty of room to spread out with the two sitting areas, the kitchen, the pool table room, and then the lanai. The owner's are super sweet and helpful as well. Luckily we didn't have any problems, but I hear the property manager is top notch as well.
Not only did we have an entire house and pool to ourselves, but we spend WAY LESS than we would have at a hotel. for the entire week, check in Saturday, check out the following Saturday, the 6 of us paid $265 a piece. It was totally worth it and we only had a 25 minute drive to the parks!
Visiting Disney during a Pandemic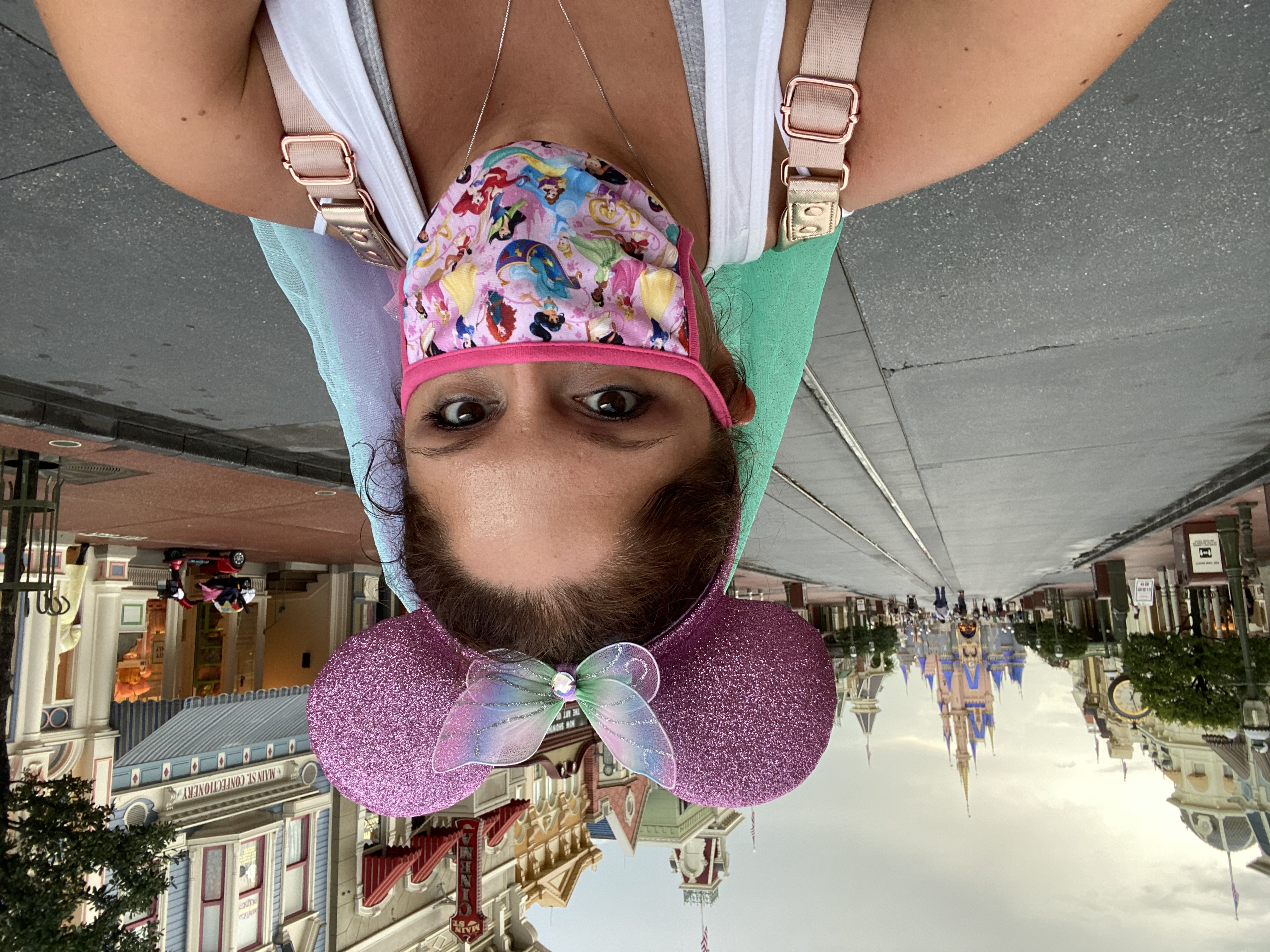 Finally, I wanted to give you guys a little preview about what it was like visiting Disney during a pandemic. I am going to link park specific posts later so you know what we experienced in each park, but this will give you an overview.
Let's start out by saying that despite my anticipation and hopes, this was not the absolute BEST Disney trip I've been on but not for the reason's you may think. The last time we went to Disney was in December of 2015. This was a trip where we experienced MAX capacity at 100% allowed capacity. It was the busiest time I had ever been there, but probably the best time I have ever been there.
The crowd levels were great this trip– I didn't have to wait in line for 3 hours for a ride like I did in the past. Despite these way low crowd levels, I still didn't get to experience or ride everything I wanted to. It was because of rain and poor planning. YES I SAID IT! I poorly planed our day at the Magic Kingdom! I'll go into that more in the Magic Kingdom post.
Overall the masks were not an issue in the heat… and I mean HEAT. Like hellish, humid heat. The key is to take it off when the opportunity arises. DRINK A LOT. When you are drinking, you aren't wearing your mask (make sure you are stationary and away from other guests). Also, take if off when you're using the restroom. Restroom breaks happened often and were doubly as long with our three-year-old, so I took that as an opportunity to get a break from the mask. Once in the stall, that thing came right off.
The major problem with the masks happened when it rained. I just think the combination of the mask and wearing a poncho was just too much for me to handle. I mean, yes, the masks aren't 100% comfortable, but then add a poncho on your wet, sticky body along with soaked shoes and you're just done.
Temperature checks weren't bad either. I run hot, especially if I'm rushing, so I was concerned. The only time this was a problem was when we were entering Epcot. It actually didn't end up being a problem at all though— once they checked our foreheads and they were hot, she checked behind my ear and I was fine. This wasn't an issue any other day we went to the park either.
Overall I think we had a really good time despite visiting Disney during a pandemic. The COVID restrictions didn't cause a problem in our trip at all and in most cases made for a better trip. I'm excited to share with you all of the details from our trip! Stay tuned for posts specific to each park and even Disney Springs!
I'd love to hear from you! Comment below any questions about our trip or any experiences you've had visiting Disney during the pandemic or regularly!