There are so many things that go on during the holidays that can be overwhelming. My husband often asks how I keep everything straight and the answer is always the same, LISTS. At Christmas time I find that my number of lists grows to at least 5 or more! This is when I rely heavily on my bullet journal.
Master Christmas To Do List
This is a list I like to place my big picture items on. Last year it was very task specific, but this year I want it to be more big picture, such as "enjoy the season", "remember the reason for the season", "be present", etc. I wanted to put things on this list that are more than just tasks.
Christmas Card List
Another important list I keep in my journal is December is my Christmas card list. Now that we have Sydney we send out a Christmas Card every year to our family and friends. I am great at forgetting to send people Christmas cards. This is the spread I used last year and I loved it!
Christmas Gift Planning List
This is a super important list for me. I always forget what I've gotten people or what I planned to get them. This list also helps me track how much I've spent on any given person (I tend to go overboard).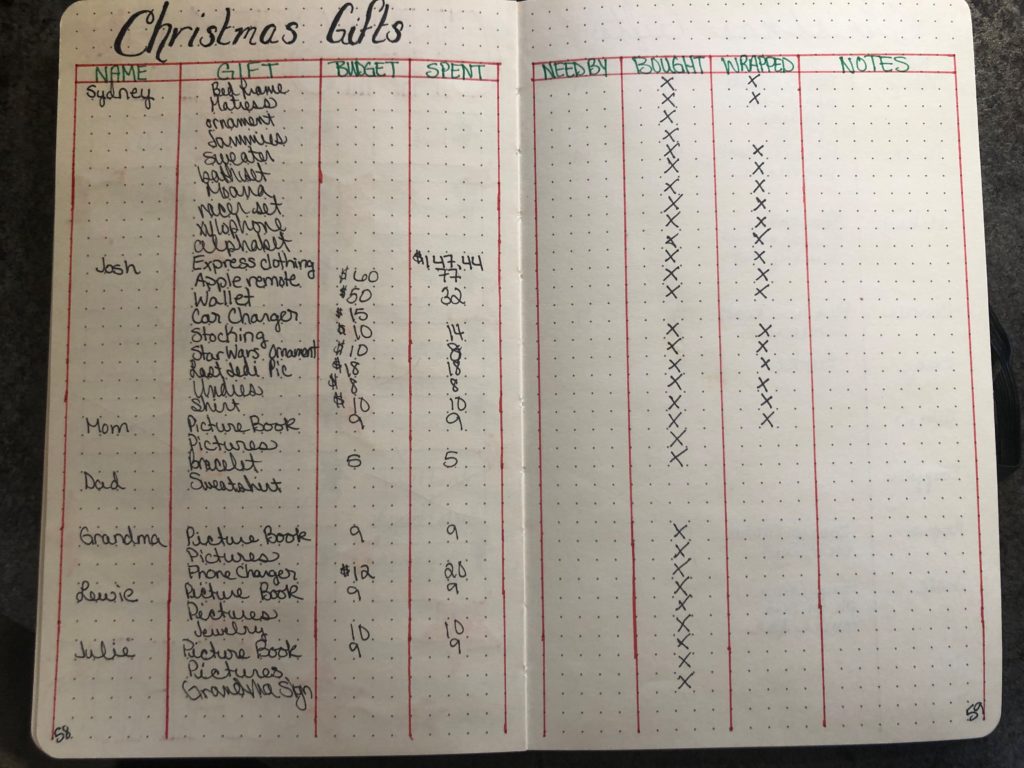 As you can see in the image above, there is a column for the recipient, the gift, the budget, the actual amount spent, when I need the gift by (for those random parties or gathering), did I buy it, did I wrap it, and any notes regarding the gift.
A printable version is available to subscribers to our blog. Subscribe now and get this free printable in your email!
Christmas To Do List
This is a list designed to help me get the tasks done surround Christmas. For example, putting up the Christmas tree, or baking cookies, or making certain gifts, etc. Below you can see what my list looked like last year. (Pardon the purple squiggle, Sydney wanted to help.)
This year I wanted to expand on this a little bit more and decided to have Larger tasks with the individual tasks associated with them listed underneath. You can see this years list below.
Christmas Eve/Christmas Day
Last but not least is the day of list. These lists include a rough schedule of the events for the day and a list of tasks that need to be completed on Christmas Eve and Christmas Day. You'll see the Christmas Day spread will look very familiar, as it is modeled after my Thanksgiving Day Spread.
Bonus: Elf of the Shelf Calendar
Every year we do Elf on the Shelf. We've actually been doing it since before we even had a child. This year I thought it would be a good idea to plan/keep track of our elf's antics. Below you can see my spread.
Hopefully these holiday themed spreads give you inspiration when planning your holiday season!