May was a difficult month for me. It was all I could do to stay focused and slightly productive throughout the day. I was, and am still, working through the grief of losing my mom back in April. I found so much comfort in my journal and will be forever grateful that my mother instilled this habit of making lists that has blossomed into a bullet journal. I failed at creating a Plan with Me for my May set up (check out June's HERE) so I this May 2020 Bullet Journal Flip Through is even more special.
This blog post contains affiliate links to products. As an Amazon Associate I earn from qualifying purchases. All of the products I share have either been items I have purchased myself and love, or items that come highly recommended and I would purchase in the future.
---
Taking a Closer Look
Cover Page
May took a little bit of a different turn as far as theme. One night I was on the phone with my friend and I was doodling while she was telling me about these whole food gummies she was selling and I doodled a flower. As I looked at it, I thought it would be a great theme for May. A month later I finally felt like starting my May journal spreads and doodled my daisies. I really like how it turned out!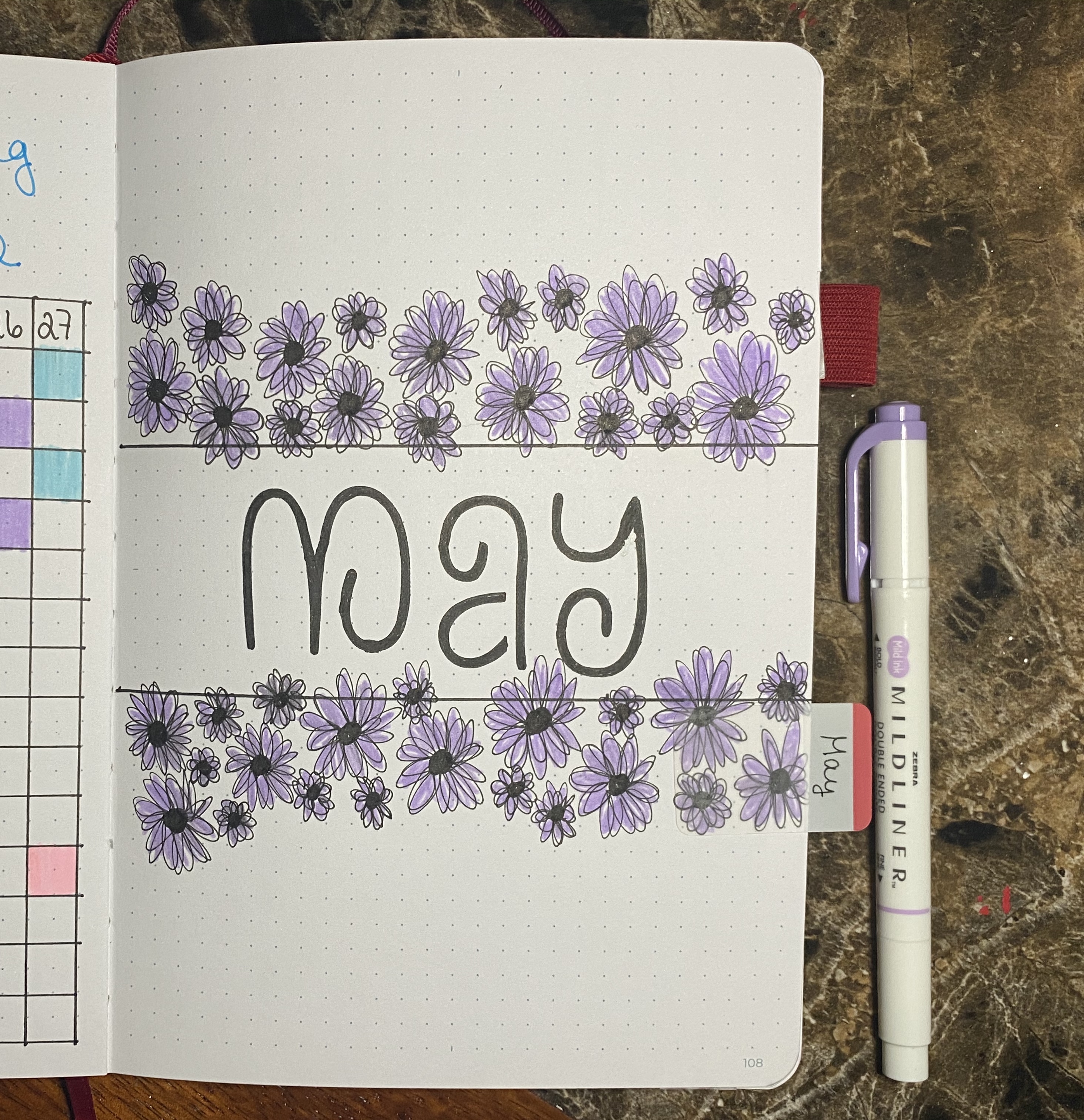 Monthly Calendar
I love the monthly calendar page because it can be so versatile. This month I chose to do an entire calendar. I continued with my doodled daisies and even added some washi tape. Now, I'll confess, I'm not new to washi tape but I rarely use it. It just never worked for me how I wanted it to… this all changed this month. I'm officially a washi tape addict!
May Master To Do
I have a love hate relationship with this one. I love the right side of the page, but I hate the coloring sheet. I pulled out on of my adult coloring books and cut a flower coloring sheet to fit my journal. I will never do this again. I don't like how intricate it is and it took forever to color. It was not relaxing at all. I will just stick to Snail Scribbles until I find something else.
Supplies Used
Scribbles That Matter A5 Planner – https://amzn.to/2ZWY95B
Staedtler Pigment Liner – https://amzn.to/2ZZNp6M
Zebra Mildliners- https://amzn.to/2YU0n5x
Scribble Stuff Pen- https://amzn.to/2yzu6Wk
Ohuhu Art Markers – https://amzn.to/2MnkjpP
Film/Book/Movie/TV Tracker Stencil – https://oopsadaisyuk.com/product/a5-p…
May/Summer Stencil – https://oopsadaisyuk.com/shop/
Limited Edition Monthly Stencil – https://oopsadaisyuk.com/product/supe…
Purple Flower Washi Tape – https://www.michaels.com/petite-flora…
May 2020 Flip Through Video
Thank you again for joining me for my May 2020 Bullet Journal Flip Through. I hope this gave you some inspiration for your own journals!
I'd love to hear your feedback! Leave a comment below