I did it! I found some courage and I tested the Disney Churro Bites Recipe released by Disney Parks Blog!
A few notes before we begin…
I hate baking.
I have NEVER tried a churro at Disney World.
These were DELICIOUS!
You can check out the full recipe HERE!
Process
I'm not going to lie, making these was a process. I will say that they are not the worst things I have ever made, but I probably won't be making these too often. There are technically only 6 major steps in the process, but these steps are a little different than I am used to. Let's say I had some anxiety through the process.
First you are supposed to mix your butter, water, salt and cinnamon in a medium sauce pan. Let that come to a rolling boil. Once it is boiling, you reduce the heat to low and mix in the flour. At this point, the mixture forms a ball.
After you let this ball of flour cool for 5-7 minutes, you are supposed to add 3 eggs to the mixture, one at a time. This is where I started to panic a little bit. As I added each egg, I found it wasn't incorporating into the flour ball easily. I don't know if this is normal, but I was concerned. I basically had to mush around the dough to get the eggs incorporated.
Next, as I mushed around the flour mixture and eggs, everything started to get thicker. I then became concerned that I was not going to be able to push the mixture out of the piping bag. I for sure thought this was going to be a loss.
After I finally got everything mixed, I loaded the batter into my piping bag. The directions say to use 1.5 cups of oil in a medium skillet or 1-qt sauce pan. 1.5 cups just didn't seem like enough in my cast iron skillet. Maybe it was not considered a medium skillet? Is there a guide for skillet sizes?
It's Frying Time!
Next, the recipes says to pipe your churros over the skillet and drop them into the oil. The idea of this gave me some anxiety, but turned out to be simple. The one thing the recipe does not say is to move around or flip your churro bites mid-way through the cooking process. If you aren't paying attention, you'll end up with one side browned churros.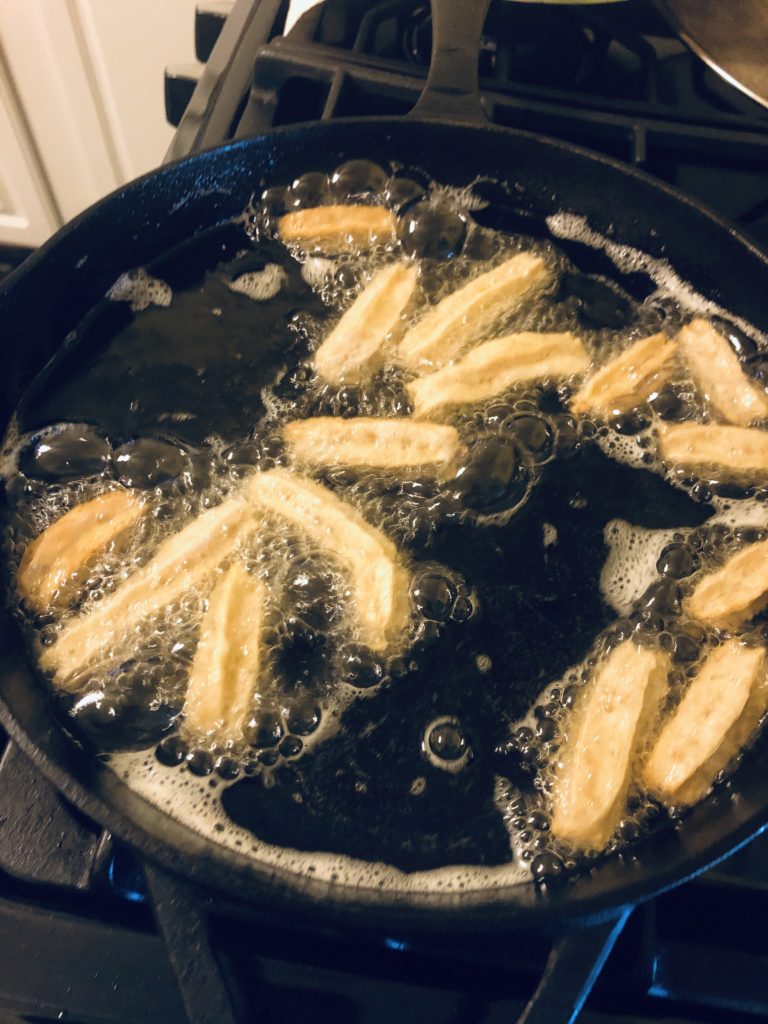 Finally, once these little babies are golden brown on BOTH sides, remove them from the oil and drain on a paper towel. After they have drained (about as much time as it takes to drop another batch into the oil) coat in the cinnamon and sugar mixture.
I will say the Disney Parks Churro Bites are definitely delicious. They are best served warm and fresh. I tried them the day after and they were a bit soggy. Check out the recipe from Disney Parks Blog HERE!
I also want to say that I think it's awesome that the Disney Parks Blog has been making it a priority to keep the magic of the parks alive while we are stuck at home. Check out all their blog posts HERE! There are so many other cool things to see, like the Disney Bedtime Hotline (I used this the other night with Sydney) and how Disney is helping out the local communities during this pandemic.