I don't know where to begin with this one. April was a whole crazy mess of a month. There were some extra wonderful times and some of the worst days in my life.
I felt like I neglected my journal a lot in April, which I'm sure a lot of you did as well. When I did spend time in my journal, it was more for reflection and an artistic outlet. I think that in the coming months I will use my journal in that way a lot more. So let's get started with my April 2020 Bullet Journal Flip Through!
Taking a Closer Look
Cover Page and Monthly Log
In April I chose to use the theme April Showers Bring May Flowers. Let me tell you… there better be a whole ton of flowers in May after all the showers (literally and figuratively) April had. I also chose to do a small calendar. Not much was happening in April, but visual was something different.
Monthly Goals
This is always one of my favorite pages in my monthly bullet journal. Making the list and then crossing the items off of the list is very satisfying, but coloring in the page based off of what I crossed off is even more satisfying. I love how colorful this was as well. The coloring page is by Snail Scribbles (Kate is so talented). You can get yourself one HERE at Oops A Daisy's website!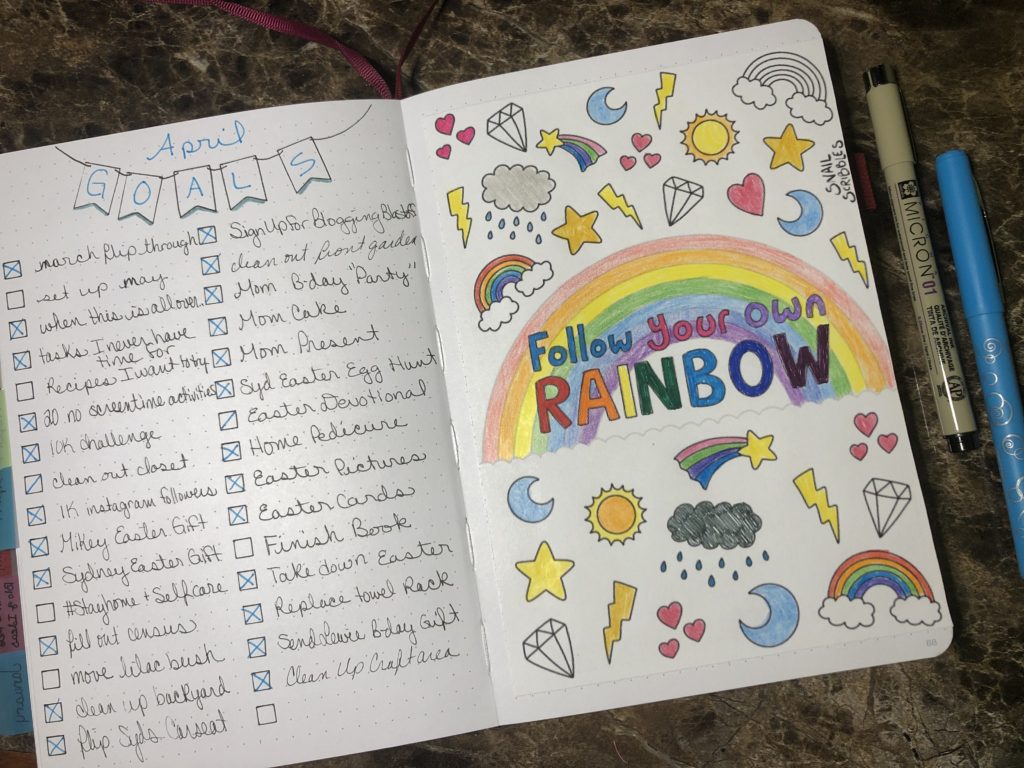 Blog Planning Spread
I really liked this spread as well and will use it again. I'm probably going to adjust a couple things on it moving forward. It helps me lay out a plan of what I'm going to post and track my traffic for the blog and social media platforms.
Highlights Page
Every so often I try to include a gratitude log in my bullet journal. I don't know why because I never seem to be consistent. It's probably because I live my life going with the flow outside of work. This is my second attempt at a gratitude log this year… It was going well until the last week of the month when my mom passed away. I may try it again sometime soon but I'm not sure yet.
If you want to watch me set up the month of April, you can check out that blog post and video HERE!
April 2020 Bullet Journal Flip Through Video
I hope you enjoyed my April Bullet Journal Flip Through. I hope it gave you some inspiration for your own bullet journal as well! I must say, I am looking forward to May and the summer months!
I'd love to hear from you! Leave a comment or question below!