I'm going to be honest with you– I really sucked at September. I failed miserably at my journal but you know what, that's okay because it's October and I freaking LOVE October. I am so excited to share with you my October 2020 Bullet Journal!
This month I've decided to go with a Halloween/Hocus Pocus Theme… I mean who doesn't love Hocus Pocus? I was so excited when I decided to do Hocus Pocus as my theme and hopped onto Etsy immediately to find some Washi tape! I was actually quite surprised when I found washi tape with the Sanderson sisters on it! I'll link everything I used down below if you want to pick up anything for yourself!
This blog post contains affiliate links to products. As an Amazon Associate I earn from qualifying purchases. All of the products I share have either been items I have purchased myself and love, or items that come highly recommended and I would purchase in the future.
October 2020 Bullet Journal Pages
Cover Page
Oh my goodness guys! I cannot even begin to tell you how in love with this I am! I knew I wanted to represent our three favorite witches on my cover page but I wasn't sure how to do it. After last month's super involved cover page, I was hellbent on making this one simple. Well, simpler. I sketched out the girls in an overlapping way and then used my stencil and some block lettering for the rest. I still can't get over this washi tape!
October Calendar
Next up is my traditional calendar page. I again used a couple of my stencils and the Hocus Pocus washi tape! There were a lot of empty spaces so I filled them in with some Halloween colored stars and a black cat. Looking at this now I'm not crazy about the cat eyes but she's still a cutie!
October 2020 Mood Tracker
Another staple in many bullet journals is a mood tracker page. I tend to stay away from them because I usually don't remember to fill them out on a daily. This month I decided to do one to track my moods because I had a lot of mood swings in September. It was to the point where I was slightly worried, I didn't know if it was just post-Disney depression or unprocessed emotions from the past year and a half finally surfacing.
Despite the slightly depressing reason I made this page, I still thinks it's awesome looking. Again I used the stencil I made for the witches boots and then the goal is to color in her stockings based on my mood for the day. We'll see how we end up at the end of the month.
October 2020 Habit Tracker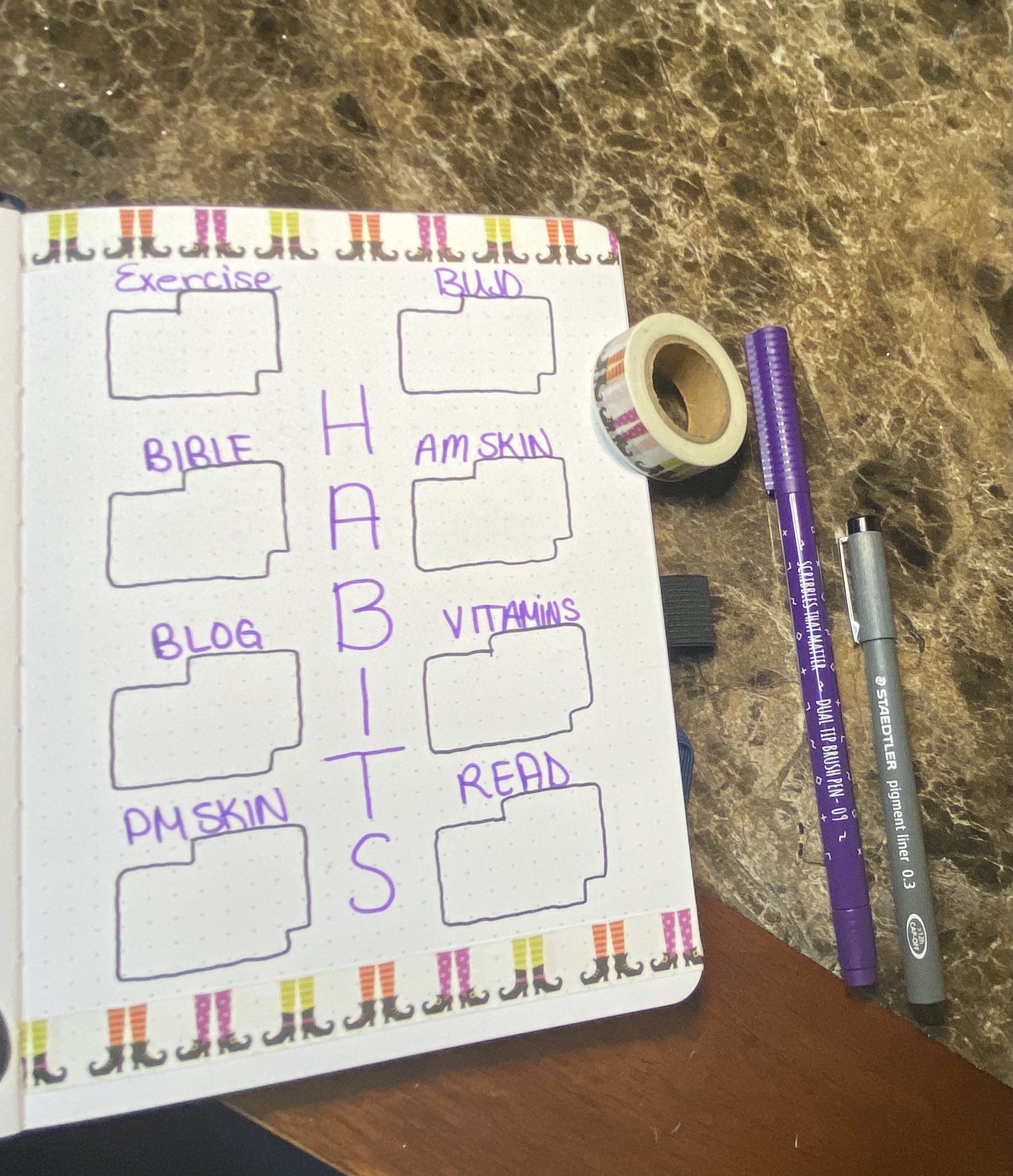 Finally, we come to my October habit tracker. I'm going to attempt this layout again for October despite my utter failure at it in September. The beauty of bullet journaling is you can try new things until you find one that works. I think the hardest part of this is figuring out which day you're on if you miss a day. Um, did you guys see this washi tape!? I freaking adore it!
I know, I know, you guys are all wondering what happened to my favorite spread, the monthly to do list. Well, she and I are on a break. I've decided to do something a little different with my weekly spreads to force me to be more active in my journal, which made having a master to do list redundant. We shall see how it goes! Fingers crossed!
Items Used
Archer and Olive A5 Journal (get 15% OFF!) –http://archerandolive.refr.cc/brittanyrausch
Staedtler Pigment Liner – https://amzn.to/2ZZNp6M
Zebra Mildliners- https://amzn.to/2YU0n5x
Scribble Stuff Pens- https://amzn.to/2yzu6Wk
Ohuhu Art Markers – https://amzn.to/2MnkjpP
Stencils – Britt's Bits (coming soon)
Hocus Pocus Washi Tape – https://www.etsy.com/listing/860838863/hocus-pocus-witches-and-brew-a-spooky?ga_order=most_relevant&ga_search_type=all&ga_view_type=gallery&ga_search_query=hocus+pocus+washi+tape&ref=sr_gallery-1-1&organic_search_click=1
Witches Boots Washi Tape – https://www.etsy.com/shop/AmandaMischell?ref=search_shop_redirect
Thank you for joining me for my October 2020 Bullet Journal Set Up. I'd love to hear your feed back– leave a comment below.
If you'd like to check out more Plan with Me's click HERE!