I wanted to share with you all one of my absolute favorite meals, Southwest Chicken Salad. This is actually a Wendy's salad knockoff, which I guess isn't too hard to do when you're "knocking-off" a salad. Honestly though, I took my first bite of this salad the other night and couldn't believe how delicious it was. Not only is it delicious but it's not too bad for you either.
Salad Basics
Every salad I make starts with two things: Romaine Lettuce and meat.
Lettuce
I am super particular about my lettuce, so after years of trying different options, I have settled on romaine, shredded romaine to be specific. Back in college I worked at Quiznos and their salads had this delicious shredded romaine. If I could I would probably go to Quiznos and buy a bag of the lettuce for the week but there are none around here any longer, so I make my own.
To achieve my coveted shredded lettuce, I start with romaine hearts. I cut off the end and then make a cut about every half inch. Once I have one heart cut like that, I run my knife through to break up the pieces a little smaller. Then, I throw them into my handy salad spinner. I LOVE IT! Just run water through the strainer with the lettuce and then spin away. Sydney loves to help with this part too.
Meat
Obviously you can pretty much put any kind of meat on a salad, but I usually default to chicken or steak. For this salad, I opted to use chicken. My favorite method of preparing chicken for this salad is to cut it up into cubes, season it, and cook it in a skillet. It's quick, easy, and delicious. I always default to pepper, garlic powder, and onion powder when seasoning my chicken. Honestly, the possibilities are endless, but I'm set in my ways.
Putting it all together
The fun part about a salad is that you basically get to customize it to your liking. I am super picky so I don't put a lot of extras on my salad, but my husband enjoys all of the things. I'll usually prepare a couple extra, like tomatoes or peppers or cucumbers, for Josh and Sydney to add to their salads and then lay it all out on the table .
In the picture you will see my go-to's for this salad. We buy guacamole from our local Mexican restaurant (Los Amigos for the win!!– I could literally bathe in this stuff). Fiesta blend cheese. It has taco seasoning on it and is the finely shredded version. I also came across these Tortilla Strips that are Santa Fe Style. Caution, they are slightly spicy! Tomatoes for Josh and Sydney (no thank you) and the Southwest Chipolte dressing (it's amazing, I also dip taquitos in it.)
Other great additions
roasted corn (buy a bag of frozen corn, throw it in the skillet and fry it up)
Green, red, or orange bell peppers
cucumbers
salsa
onion
avocado hunks
black beans
hard boiled egg
Honestly, the possibilities are endless. I hope you enjoy this salad as much as we do! It's delicious and decently healthy!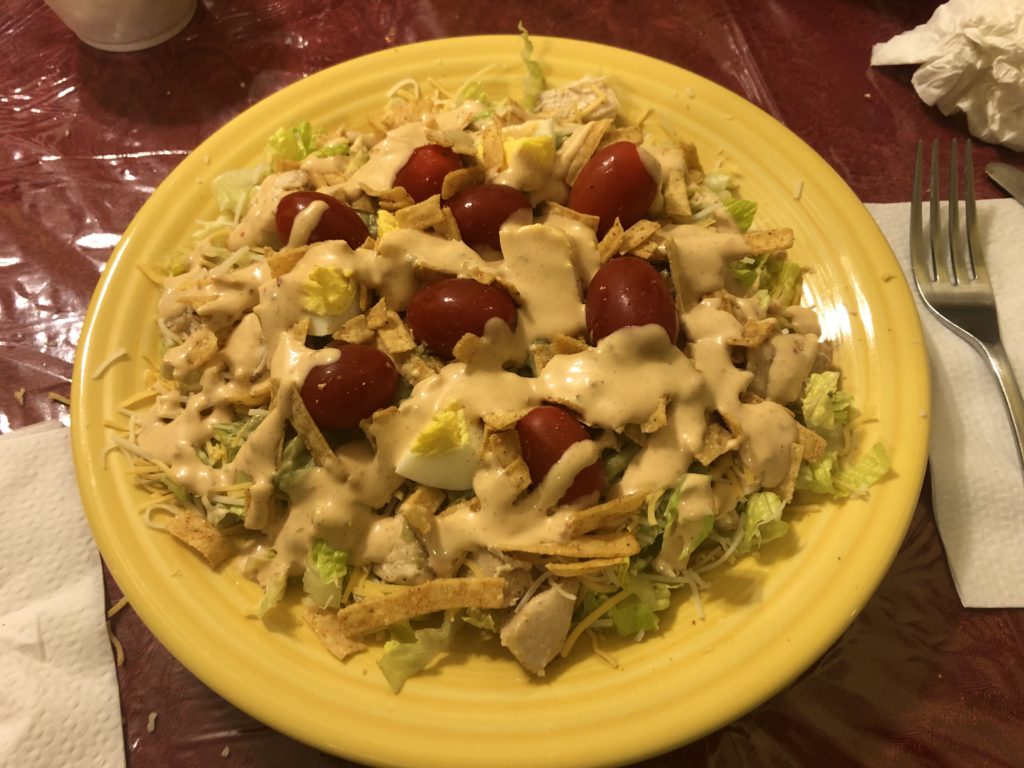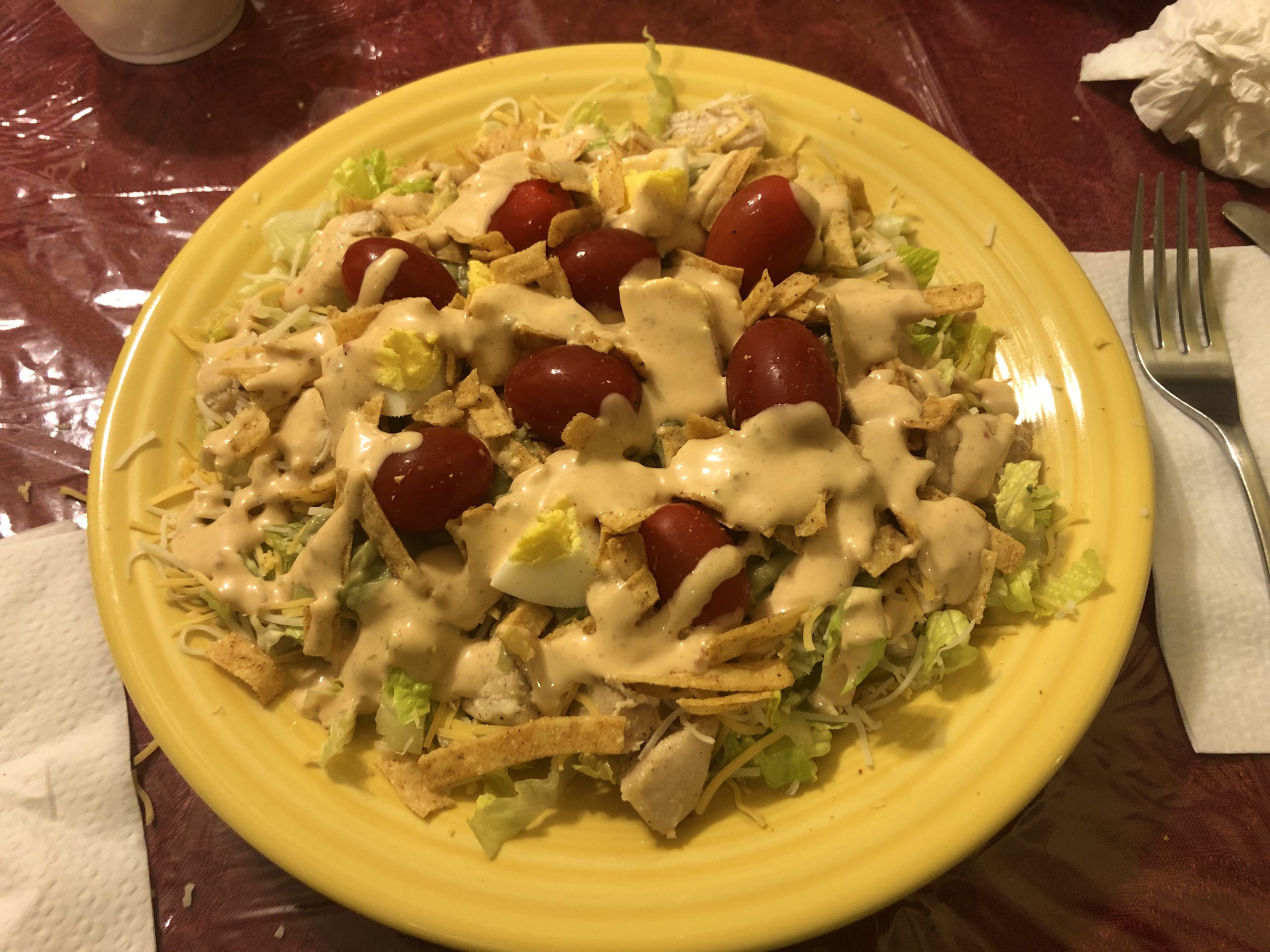 Southwest Chicken Salad
Ingredients
1

Chicken Breast

grilled

2

cups

Romaine

shredded

1/3

cup

Fiesta Cheese

2

tbsp

Sante Fe Tortilla Strips

1/4

cup

guacamole

2

tbsp

Southwest Chipolte Dressing

other salad toppings as desired
Instructions
Cookie Chicken breast as desired.

Cut and clean romaine lettuce as desired.

On a bed of romaine, place chicken, cheese, guacamole, tortilla strips, dressing and other salad toppings.