Traveling in general is complicated, now add in a toddler and the coronavirus and you're in for an extra wild ride. We recently took a Virginia Beach Vacation as a family and it was actually pretty great! We have a Disney vacation planned in September, so we thought this would be a pretty good "test trip" to see how Sydney did. Overall, I'd say it was a success– we had a great time, started our vlog, and enjoyed a much needed break from every day life. I want to share with you our experiences and hopefully they will help you out on your next trip to Virginia Beach!
This blog post contains affiliate links to products. As an Amazon Associate I earn from qualifying purchases. All of the products I share have either been items I have purchased myself and love, or items that come highly recommended and I would purchase in the future.
Logistics
When we were planning our vacation, we were looking for someplace that was in driving distance. My husband had visited Virginia Beach when he was a child and has been wanting to visit again, so I looked there first. It's about a 7 hour drive from our home in Western Pa, so I thought it was a good fit. It ended up taking us about 9 hours to get there because we had to stop to eat and stretch a couple of times.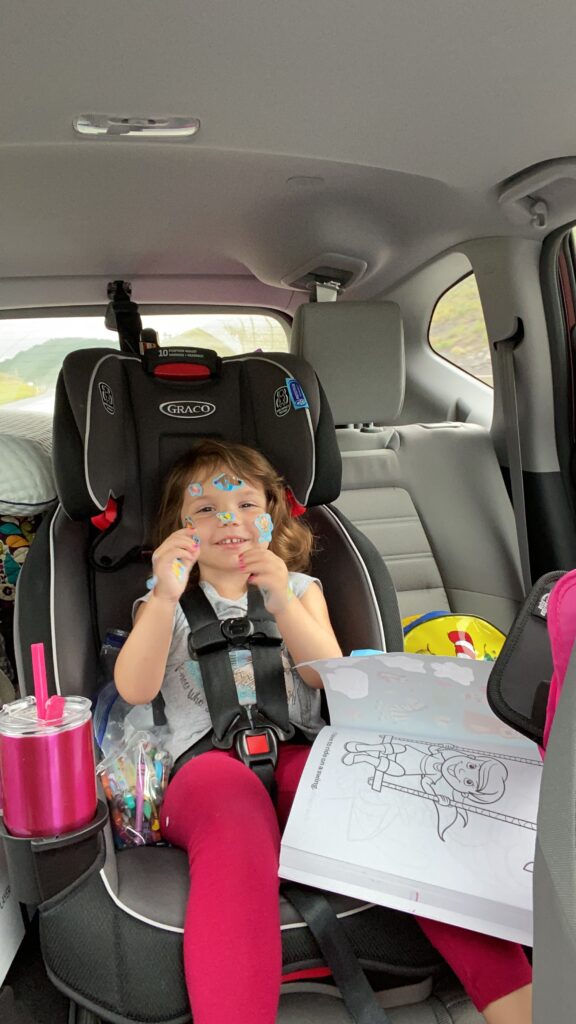 I am a huge planner, so I wanted to make sure we had all the things we needed and Sydney needed in the car. Below is a list of items I made sure to pack for the car ride.
Car Ride Essentials
~ Portable DVD Player (check this one out HERE) and DVDs
~ Coloring Book and Crayons
~ Pillow and Blanket
~ small toys (Sydney brought a Barbie, a Woody doll from Toy Story, a mini hungry, hungry hippos game)
~ hand sanitizer
~ wet wipes
~ change of clothes
~ potty seat (I absolutely LOVE this travel one)
~ drinks and snacks
~ car chargers
The Hotel
Given the current situation, Josh and I wanted to go with a name brand hotel, so we chose Springhill Suites by Marriott. One of the main things we really liked about this hotel is that it's ocean front. What's the point of going to the beach if your hotel isn't right there on the ocean? Maybe I'm spoiled? We also liked that the hotel offered free breakfast and had an outdoor and indoor pool (not that we used the indoor pool). Another nice part about the hotel was that it had direct access to the boardwalk which was super convenient. After we parked when we got there, we didn't move the car until we left to come home. It was honestly the best! I would definitely recommend a beach front hotel at Virginia Beach.
Boardwalk
Virginia Beach has this awesome, 3 mile boardwalk that goes between the beach and the beachfront hotels. It was a really cool to just have an open place to walk, free of vehicles, to get from place to place. Sydney enjoyed being able to run down the boardwalk and have a bit more freedom than she would on a sidewalk. I also never felt like it was clustered on the boardwalk, at least not on our end where our hotel was. Down towards the Neptune statue (the complete opposite end from our hotel) it seemed busier and more crowded.
One of our favorite things to do on vacation is rent a surrey bike. I honestly don't know why this is something we like to do because we complain the entire time (well Josh complains the entire time and I complain the second half). It's a great way to get from place to place instead of walking, but I honestly think it's a lot more physical work than walking. Also, my butt hurts for days after… they need to fine tune these bikes and get more comfortable seats. Sydney always enjoys the surrey because she just rides in the front basket area while Josh and I do all the work. We paid $30 for 2 hours with the bike, which was enough to get us down to the Neptune statue and back.
The Beach
The main draw of our Virginia Beach Vacation was obviously the beach and it did not disappoint. The sand was clean, there wasn't a lot of random sea things coming out from the ocean, and there were a lot of lifeguards stationed down the beach. I felt very safe and comfortable on the beach and in the ocean. The lifeguards were on top of things, when people were going too far out they were blowing their whistles and waving them in. We had a lot of fun building sandcastles and enjoying the ocean waves. We even saw dolphin's swimming one morning from our balcony!
The Restaurants
There are so many good options at Virginia Beach when it comes to meals. Everything is pretty much in walking distance which was super convenient. By the time dinner rolled around, we were lazy and stayed very close to our hotel.
The Shack
Our first night we ate at The Shack. The food and drinks were tasty but the portion size was slightly small for the price. We really loved the atmosphere though. It's not on the boardwalk, but extremely close.
Waterman's Surfside Grille
Our second night we ate at Waterman's Surfside Grille. This place is right on the boardwalk and definitely the best food we had all weekend. It was funny because Josh wanted seafood and had asked "is it okay if we splurge tonight?" and of course I'm like sure whatever. When we got our bill, it ended up being less than the night before! So much for splurging! I got ribs and bbq chicken which was amazing– I could not get over how delicious the chicken was and the cole slaw was on point. The fries were amazing too. Josh got the Just Seafood dinner and was raving about how good it was. I keep thinking we should have saved that meal for our last night there because it was truly the best meal we had.
Chix on the Beach
Finally, on our last night, we ate at Chix on the Beach. This was another awesome dinner on the boardwalk and again, less than the previous two nights (we even had drinks and dessert!). I had steak (still not a seafood person) and it was amazing. Josh got shrimp and steak tacos which he loved! We got Sydney some mac and cheese which was also extremely good. That's one curious thing about these restaurants, they don't advertise a kids menu. It's very strange because there are a ton of kids that visit Virginia Beach.
Overall, we had a great time on our Virginia Beach Vacation! Let us know in the comments below what your favorite spots are at Virginia Beach!
Watch the Vlog Below!