What is Mardi Gras?
My husband asked me this the other night when I told him we'd be celebrating Mardi Gras again this year. This is such a loaded question because the history of Mardi Gras dates all the way back to the 17th century. Over the years it has obviously evolved, especially once New Orleans was founded in 1700's. So here is a basic explanation of Mardi Gras.
Mardi Gras (French for fat Tuesday) signifies the end of the carnival season and the beginning of the Lenten season. Carnival is a celebration that begins with the Christian feasts of the Epiphany and ends on Mardi Gras. Fat Tuesday refers to the practice that people would eat a lot of rich foods the before beginning the Lenten season on Ash Wednesday.
Now, when people think of Mardi Gras, they think of the parades and floats and the throwing of beads. Every country celebrates it differently, it's quite fascinating. If you'd like to learn more about the history of Mardi Gras in the U.S., check out mardigrasneworleans.com
Mardi Gras and Me
Is it weird that I celebrate Mardi Gras every year considering I live in Western Pennsylvania and have no ties to the south? I've only been to New Orleans once in my life, just a few months before Hurricane Katrina hit. I was probably about 15 years old at the time but the visit left a lasting impression on me and I've wanted to visit again ever since.
Two years after our visit, I chose to do a state report on Louisiana for my geography course. We had to construct a visual aid for our report and I chose to make a Mardi Gras Float. My float was filled with beads and gold coins and even featured a court jester!
Another fun fact, I was in Venice during Carnival back in 2011. As we walked deeper and deeper into the city we saw more and more people dressed in masks and elaborate costumes. It was pretty cool. The only draw back was that it was extremely busy in the city.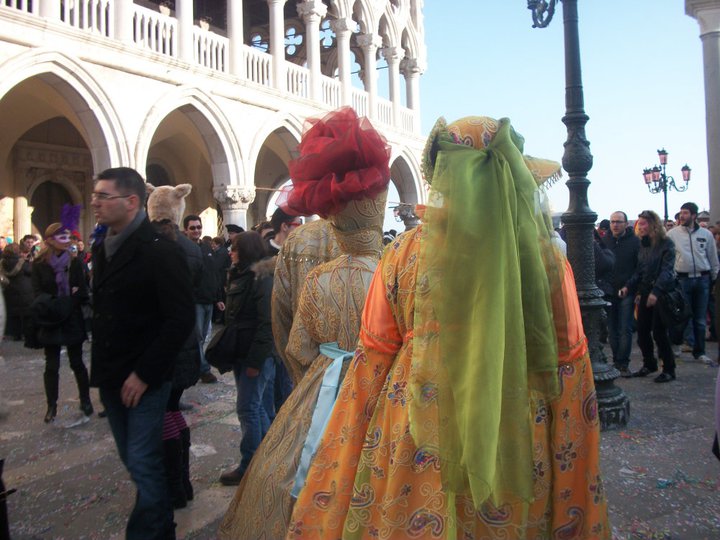 How I celebrate Mardi Gras
Finally, the moment you've all be waiting for; how I celebrate Mardis Gras. Of course I celebrate with food and beads! When we visited New Orleans all those years ago, we ate at a restaurant called Remoulade . I remember it being this cozy, little restaurant on Bourbon St. We got burgers and complained because there were no free refills on soft drinks. This restaurant is basically the foundation for my celebration.
Every year, on Mardi Gras, I make muffuletta's with remoudlade sauce and I pick up a King Cake for dessert. Now I've got you confused, what are all these weird words!
A muffuletta is a traditional sandwich in New Orleans. It is made on round Italian bread and filled with cold cuts, usually mortadella and salami. It also has cheese and an olive salad on it. As you may know, or maybe you don't, I am a super picky eater, so I've made my own muffuletta. This year I actually baked a loaf of Italian bread because I'm too lazy to find it at one of the bakeries in town. I fill my Italian bread with ham, salami and pepperoni, along with provolone and mozzarella cheese.
I also make a remoulade sauce to pair with the sandwich. It's actually is a pretty good condiment for the sandwich, even though it is often paired with seafood. It's super yummy, slightly tangy. My modified recipe is below. (Again, I am super picky so I omit the capers that are traditionally in it.)
Remoulade Sauce
Ingredients
1

cup

mayo

2

tbsp

Dijon mustard

1

tbsp

lemon juice

freshly squeezed

1

tbsp

hot sauce

2

tsp

stone ground mustard

2

tsp

garlic powder

1

tsp

worcestershire sauce

1

tsp

mild paprika

1/4

tsp

salt

1/8

tsp

cayenne pepper
Instructions
add all ingredients into a bowl and mix well.
Lastly, I always buy a King Cake. King Cake's differ from country to country but the one that I normally find in the U.S. is like a cinnamon pastry in the shape of a circle. Traditionally, a plastic baby figurine is baked inside. Whoever finds the baby in their piece of King Cake is said to have luck and prosperity in the following year. When I got my cake this year, the baby was taped to the outside… apparently they are no longer allowed to bake them inside due to it being a choking hazard. I was highly disappointed in this turn of events.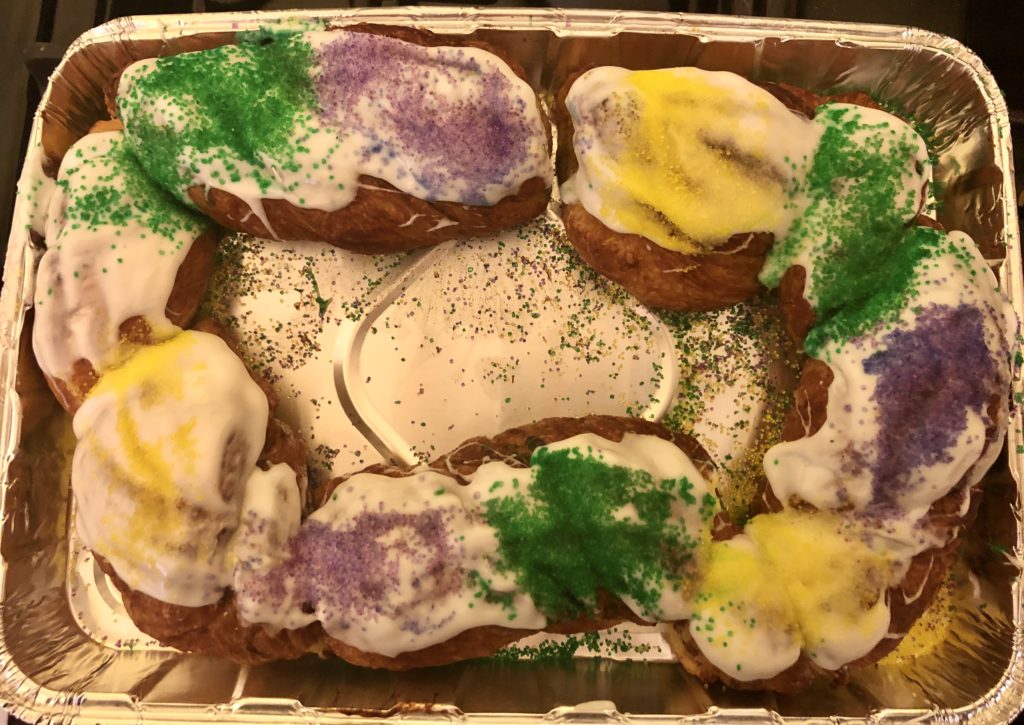 How do you celebrate Mardi Gras? Let us know in the comments below!